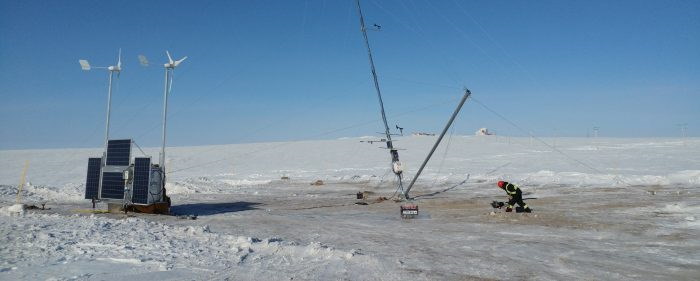 Sachs Habour Wind Measurement Campaign
Sachs Harbour is a small hamlet with a population of about 120 people, located Southwest of Bank Island in the Amundsen Gulf, in the Northwest Territories, Canada. The thermal power generation station at Sachs Harbour as well as the distribution grid are owned and operated by the Northwest Territories Power Corporation. The station currently generates 907 MWh of electricity per year with and average load of 104 kW.
Project
The Government of the Northwest Territories mandated Tugliq Energy to conduct a bankable wind resource assessment around Sachs Harbour to determine the most favourable sites for wind turbine installation. After a wind flow analysis, Tugliq Energy installed a 34m XHD meteorological mast to survey real time wind and perform a 2-year measurement campaign. A unit of autonomous energy production needed to supply the tower through renewable resources was also supplied by Tugliq. The autonomous system comprises of both wind and solar units, each with a capacity of 1 kW and a total combined maximum 2 kW capacity. The system also includes a diesel back up generator and a battery bank to ensure completely autonomous function.
Projected Results
The theoretical analysis of the wind resources at Sachs Harbour combined with the high costs of electricity generation make the hamlet an ideal candidate for a wind power project.
Project Status
The meteorological tower to measure the wind and corresponding autonomous power supply system have been installed as of autumn 2017 for a study period of 2 years.
Client
Government of the Northwest Territories
Projet Date
2017
Autonomous Hybrid System
Solar – 1 kW
Wind – 1 kW
Genset – 4 kW
Batteries – 4 x 100 Ah
Location
Sachs Harbour, Northwest Territories, Canada